What conditions will be favourable for monsoon onset over Kerala?
|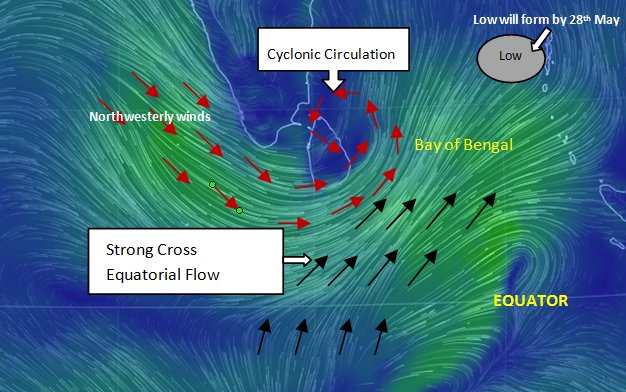 South West monsoon has advanced in to some parts of South Bay of Bengal and Nicobar islands as per IMD. Strengthening and deepening of cross equatorial flow and enhanced cloudiness has been observed by IMD. Deepening means cross equatorial flow is continuously seen up to the height of 1.5 km or more.
Conditions which are favourable for monsoon onset over Kerala
Now a cyclonic circulation is seen over Bay of Bengal. A low pressure area is going to form around 28th of May as shown in the picture. Though the cyclonic circulation may move Northeast wards but it will strengthen the cross equatorial flow along the coast of Kerala. Wind which is seen NorthWesterly (in red colour in picture) over Kerala coast will convert into Southwesterly wind and a off shore trough will form along Kerala coast. These conditions are favourable for advancement of monsoon over Kerala.