Formation of Cyclone "Luban" In Arabian Sea & Depression in Bay?
|
Formation of Cyclone in Arabian Sea
October month is also prone to cyclone forming. A Well Marked Low over South East and adjoining East Central Arabian sea has intensified into depression and it will intensify in to cyclonic storm "Luban".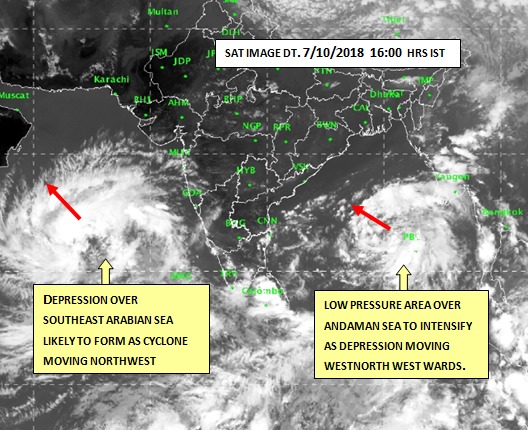 Fisherman of Maharashtra coast, Karnataka coast and Kerala coast should not go out in to the sea.
This cyclonic storm is going to intensify in to severe cyclonic storm. It will move West North West to wards south Oman coast or Yemen coast. Fisherman of western coast has to remain alert for next week.
Formation of Depression in Bay
In Bay of Bengal also over Andaman sea a low is forming on 7th October. It is than likely to intensify into depression by 8th October. Because of this system North East monsoon will hit Tamil Nadu coast. Though the system will be moving NorthWesterly direction and may hit north Odisha coast.