Cyclone Ockhi To Move in Northeast Direction
|
On 03rd December 2017 at 1730 hours IST, the Very Severe Cyclonic Storm (Ockhi) is over Eastcentral & adjoining southeast Arabian sea. It is moving in North-Northwesterly direction. It is about 820 kms away from Mumbai.
The path of Cyclone is predicted to curve and move in Northeast wards. The intensity will gradually decrease to become Deep Depression and likely to cross the west coast between Surat to Dahanu on 5th December 2017.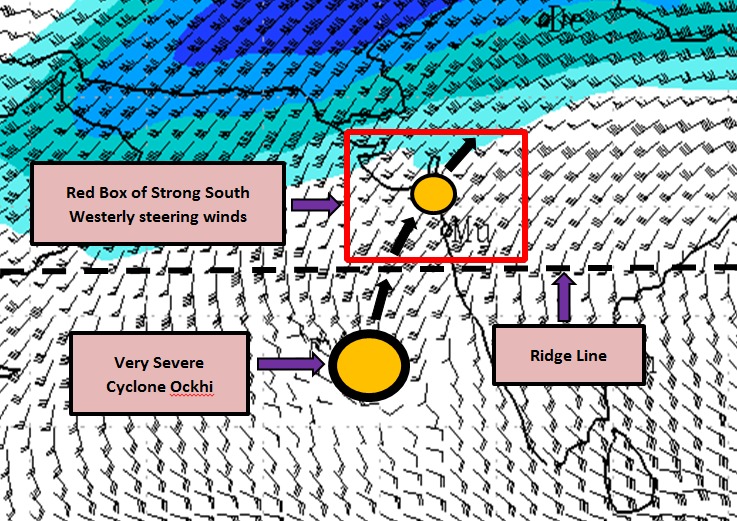 Backgroud Image: Model Output IMD
Why the Cyclone will move in Northeastwards Direction?
The above picture shows the model output of winds at the height of 12 kms.  These winds mostly governs the path of Cyclone and they are known as "Steering winds".
The winds in the red box shows the strong Steering winds blowing upto 80 kmph to 100 kmph in southwesterly direction. Hence the cyclone once it reaches the "Ridge line" will then recurve to follow the steering winds and move in Northeastwards direction.
(Ridge line is imaginary line along which the winds curve in clockwise direction).