Effect of Strongest Indian Ocean Dipole in 2019
|
In 2019 Indian Ocean Dipole (IOD) at its highest with index value 2.0 deg C and above. As per the Dr. Saji N. Hameed, who discovered IOD, 2019 was one of the strongest positive IOD. Positive phase of IOD resulted in good rain over India and less rain over North Australia, Indonesia and Malaysia.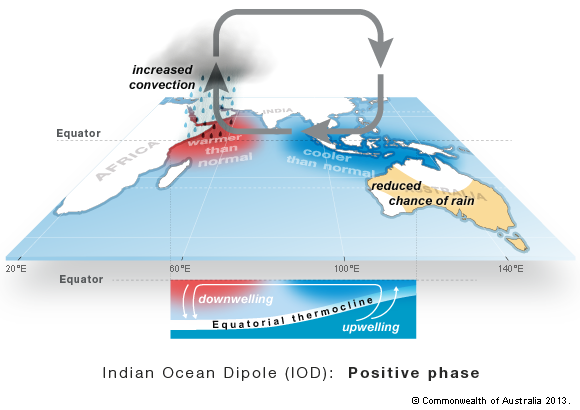 IOD & El Nino
Indian Ocean Dipole again proved that a positive phase of Indian Ocean Dipole will not only reduce the effect of El Nino but also it enhances the rainfall activity over Central India and North West India. As per the international weather data, this year El Nino was existing from September 2018 to May 2019. In the month of April, India Meteorological Department declared a normal rainfall in the monsoon season of 2019.
IOD and Monsoon 2019
Monsoon started in the month of June with a lazy phase. It continued till late July insipid. August and September were the wet months of this monsoon. Even October also was a good rain month. North-East monsoon also started with great intensity. A meteorologist could not find and mark the date or week between the end of South-West monsoon and the start of North-East monsoon. The Indian Ocean gave a good number of cyclones, depression during these months.
Read – What is Indian Ocean Dipole?