Localised Rainfall Upto 400mm Over Palghar & Mumbai.
|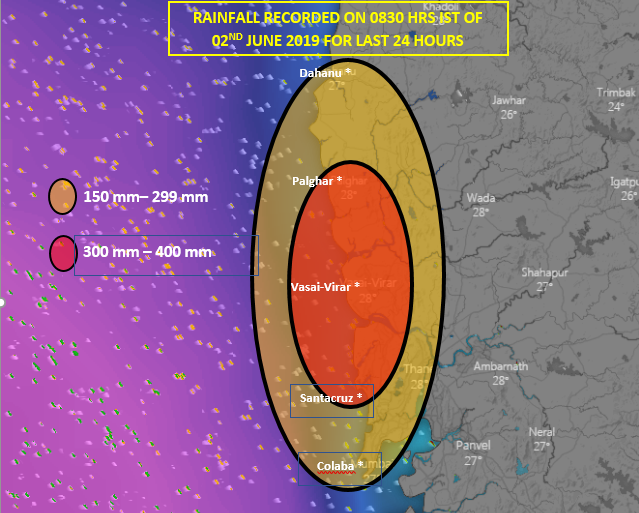 On 30th June 2019, several places in the the districts of Palghar in North Madhya Maharashtra recorded extremely heavy rainfall exceeding 300 mm. These rainfall have occurred within span of 12 hours. This has been peculiar phenomenon since past few years that Palghar district record such rainfall. It is anticipated that due to local circulation these events have occurred.
Rainfall over Palghar districts on 01.07.19 for past 24 hours:
Malyan 335mm, Kasa 340mm, Palghar 340mm, Manor 317mm, Boisar 308mm, Safala 395 mm, Tarapur 307 mm.
In continuation to above, the cloud patch shifted little southwards on 01st July 2019. Under it's effect area from Palghar to Santacruz reported 350 mm to 400 mm in last 24 hrs ending on 02nd June 2019.. Dahanu and Colaba recorded half of the amount upto 200 mm each which are few kilometers from Palghar & Santacruz respectively. Surat which recorded upto 200 mm on 01st July 2019 recorded 0.0 mm today. Hence it is a highly localized phenomenon.
Santacruz – 395 mm Colaba – 137.8
Palghar – 328.0 mm, Dahanu – 192.8