MONSOON UPDATES & WEEKLY REPORT ENDING 5TH AUGUST 2017
|
Realised Weather over Maharashtra, Goa and Gujarat State. (30thJuly  to 05th August)
During the last week
Gujarat State:
The last week's  upper air cyclonic circulation over East Rajasthan & neighbourhood  became less marked on 31st  July. The monsoon trough moved close to foot hills of Himalaya and remained there throughout the week.
As a result of the above mentioned weather conditions, Gujarat region received moderate rainfall on 30th July and then from 31st July onwards, the rainfall activity have been considerably decreased over Gujarat state.
Maharashtra & Goa State
Konkan and Goa received moderate rainfall at most places during the week. The rainfall activity over South Konkan is better than that of North Konkan. Madhya Maharashtra also received light to moderate rainfall at a few places during the week,  only on 04th August South Madhya Maharashtra got rainfall at many places. Marathwada and Vidarbha received light rainfall at isolated places during the week.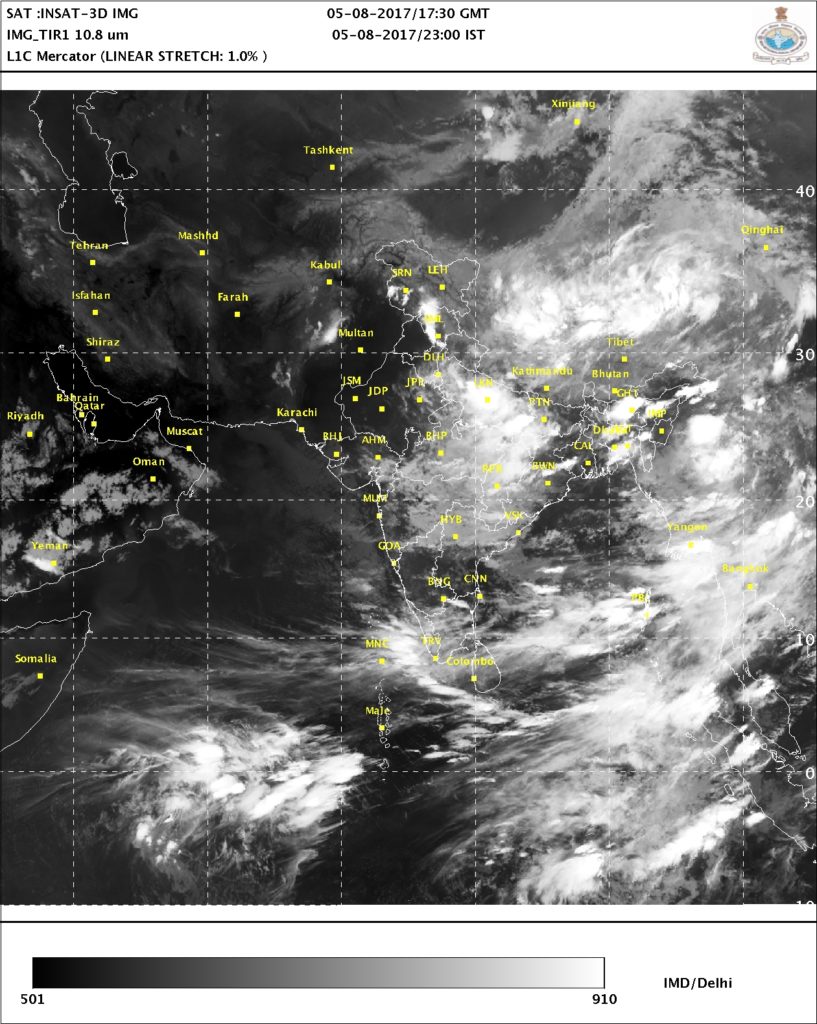 Forecast for next week from (6th August to 12th August 2017)
Rainfall activity will be subdued over State of Maharastra, Goa & Gujarat during the week.
Though one circulation is converting in low pressure area in Bay of Bengal but it will not be affecting weather over Maharashtra, Gujarat and Goa State. Monsoon trough may move little southwards.
Konkan – Goa :- Konkan & Goa will experience passing showers during the week. The frequency of passing showers will be increased as week progresses.  North Konkan districts such as Thane, Raigad and Mumbai will receive light to moderate rainfall whereas South Konkan districts such as Ratnagiri and Sindhudurg will have moderate rainfall.
Madhya Maharashtra :- Madhya Maharashtra will experience either partly cloudy or sunny days during the week.
Marathwada :-  Marathawada will also observe either sunny days or partly cloudy days. On 10th and 11th August light to moderate rainfall may occur at isolated places in the districts of Marathwada.
Vidarbha :- Vidarbha will receive light rain at isolated places during the week
Gujarat region :- South Gujarat region will receive passing showers like North Konkan.  North Gujarat region will experience sunny days.
Saurashtra and Kutch :- Saurashtra and Kutch will experince sunny days during the week.
Note on Monsoon watch.
In the last week,  the monsoon trough moved to foot hills of Himalaya. In coming week, due to  system forming in North Bay of Bengal on 6th or 7th August,  the monsoon trough may move little southwards but not affecting weather over Maharashtra and  Gujarat. This system only will give rainfall to northern part of Central India and North West India. Hilly area also will receive heavy rainfall because of position of monsoon trough.
The cyclone in the Pacific sea has adversely affected the monsoon over India. The two cyclones which were moved to South china sea, affected the direction of monsoon current over Bay of Bengal. In coming weeks, one or two circulations may be converting into low but they will be forming in the northern part of Bay of Bengal so it will not benefited Central India especially Vidarbha and Marathwada.