WEEKLY REPORT ENDING 20TH MAY AND FORECAST FOR 21ST TO 27TH MAY
|
SOUTHWEST MONSOON :-
On 14th May, India Meteorological Department declared that southwest monsoon has advanced into some parts of southeast Bay of Bengal, Nicobar Islands, entire south Andaman Sea and parts of north Andaman Sea.
On 16th May, It further advanced into some parts of South West Bay of Bengal, some more parts of South East Bay of Bengal and North Andaman sea and remaining part of Andaman Nicobar island.
On 18th May, Northern Limit of Monsoon (NLM) passes through Latitude 05°N Longitude 80°E, Latitude 08°N Longitude 87°E, Latitude 13°N Longitude 92°E, Mayabandar and Latitude 16°N and Longitude 95°E.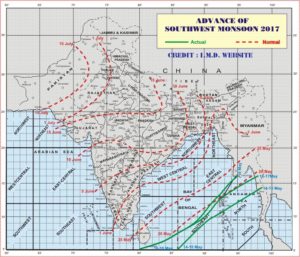 Realised Weather over Maharashtra, Goa and Gujarat State.
Heat wave prevailed over Vidarbha from 15th to 20th May.
Maximum temperatures were above normal over Maharashtra except South Madhya Maharashtra.
The maximum temperature 46.8° C recorded at Chandrapur on 17th May was the highest maximum temperature in the state during the week.
Isolated thunderstorm activity occurred in the districts of Satara, Kolhapur and Chandrapur on 14th & 15th May.
Rainfall occurred in the districts of Raigad, Ratnagiri, Sindhudurg, North & South Goa, Pune, Satara, Kolhapur and Chandrapur during 14th & 15th May.
Weather was dry over Maharashtra, Gujarat and Goa during 16th to 20th May.
Rainfall recorded (at 0830 hrs IST for last 24 hours ) during the week
14th May :- Mahad -18.0 mm (Raigad); Lohegaon – 19.7 mm, Vadagaon – 38.0 mm, Velve – 50.0 mm ( Pune); Mahabaleshwar – 11.4 mm, Satara -26.0 mm (Satara)
15th May :- Valpoi -42.3 mm, Dabolim – 20.2 mm, Sanguem 18,1 mm ( Goa)
16th May :- Sawantwadi- 30.0 mm ( Sindhudurg) ; Rajapur -94.0 mm ( Ratanagiri)
Forecast for next week.
Dry weather will prevail over Maharashtra, Gujarat and Goa state.
Northwesterly wind will prevail over the state.
During 21st to 25th May, Vidarbha will likely to experience heat wave.
Monsoon watch :-
Weather model suggest that in next week a low pressure area likely to form in Bay of Bengal and this will again trigger the monsoon current in Bay of Bengal. The anticyclone in Arabian sea (as shown in figure below) need to move away for advancement of Arabian branch of monsoon.
The weather model also suggest that a weak low in Arabian sea may form which would push the anticyclone towards west which create favourable condition for onset of monsoon over Kerala.