WEEKLY WEATHER REPORT DATED: 10TH JUNE 2017
|
Realised Weather over Maharashtra, Goa and Gujarat State during the week 4th June to 10th June 2017:
After the Monsoon entered 2 days early in Kerala on 29th May but it's progress was slow thereafter. During the last week monsoon has advanced every day. On 06th it advanced into remaining part of South Arabian sea, Lakshdweep area, most part of Kerala and some more parts of Tamilnadu.
From 06th to 10th June southwest monsoon has advanced only on west coast and central India. The branch of Bay of Bengal did not advance. North East state it did not advance.
On 10th southwest monsoon advanced up to Harnai.
Below shows the northern limit of monsoon till 10th June 2017: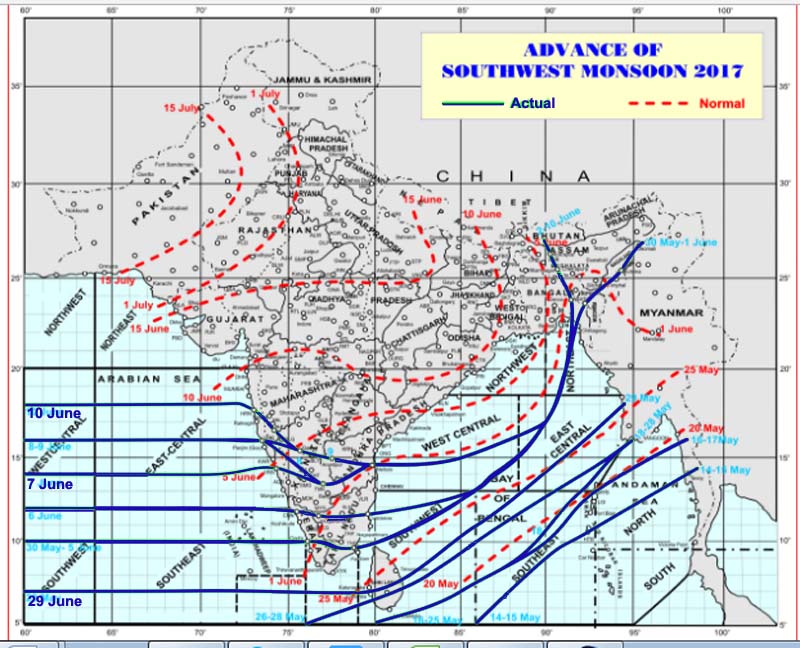 (Source image: IMD)
Why Monsoon was active in Arabian sea?
The reason of becoming active of Arabian sea branch is formation of two cyclonic circulation over Bay of Bengal. The Well Marked Low formed over Arabian sea moved to west wards very fast and became unimportant on 09th June. However cyclonic circulation over Bay of Bengal near Andhra Pradesh coast had become low on 10th of June.
The another important synoptic situation was shear zone which was seen on 06th June at latitude 13 deg N and moved till latitude 17 deg N by 10thJune. This phenomena has also pushed the monsoon over west and central India.
These two synoptic situation was very much favourable and very well predicted by European model correctly.
Shear Zone: 
It is a sudden change in wind direction either horizontally or vertically over a large area. This shear zone occurs near the horizontal boundaries associated with thunderstorm where two different air masses usually differ in temperature and humidity. Usually during onset of monsoon two air masses come together.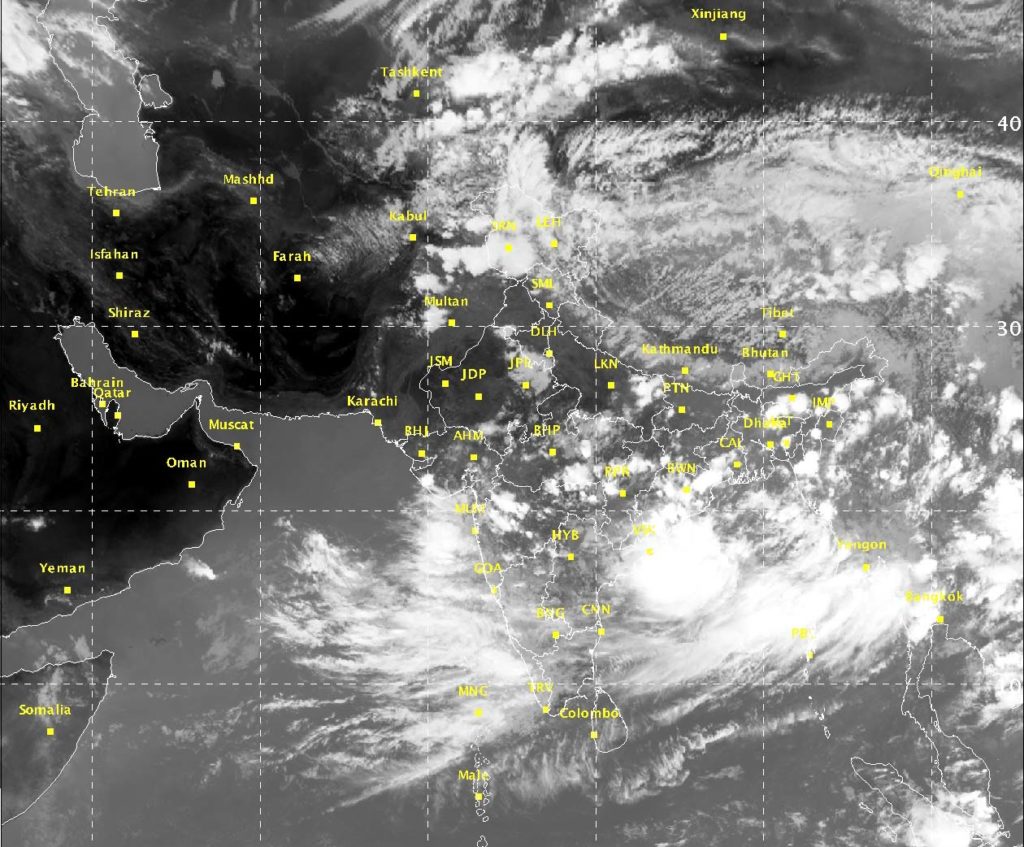 (10 June Sat Image at 14:30 IST: Source IMD)
Rainfall Activity:
On 04th & 5th June rainfall occurred at most places over the districts of Marathawada such as Aurangabad, Parbhani, Nanded and at many places over districts of Ratnagiri and Sindhudurg and in state of Goa.
From 06th to 10th west coast started getting rainfall moderately and on 09th and 10th June Konkan and Goa received heavy to very heavy rainfall.
On 10th June Harnai received 32 cm rainfall.
Forecast for next week.
Konkan and Goa will be experiencing heavy to very heavy rainfall at few places and extremely heavy at isolated places during the week.
Gujarat state will be witnessing heavy to very heavy on 10th and 11th June on 14th 15th and 16th Gujarat will have rain only on isolated places except Saurashtra where it will be many places.
Madhya Maharashtra will have heavy rain on 10th 11th and 12th June. On 13th 14th 15th light to moderate rain at isolated places.
16th 17th again good rain. Marathwada will receive heavy rain on 11th June otherwise full week light to moderate rain at isolated places.
Vidarbha will be getting thundershower on 10th 11th and from 16th onward.
Note on Monsoon watch.
South-West monsoon will be active during the coming week in west coast and over Gujarat. The reason behind is low pressure area in Bay of Bengal and it will remain in sea for some more period. This sign is very much favourable for monsoon to advance in west India as well as North East India. The moment the system will enter into India from West Bengal coast and move towards east UP it will give rain to central India like Chhattisgarh MP and Vidarbha.
As per model it is likely that the low to be over the head Bay and partially over adjoining land around 18th of June. So the monsoon may advance up to Mumbai by 13th June.
According to outlook of model Rajasthan Punjab Himachal Pradesh  and Jammu and Kashmir have to wait a few days for rain. So monsoon will maintain its strength through the next week.