WEEKLY WEATHER REPORT DATED: 18TH JUNE 2017
|
Monsoon watch
After it's spectacular onset over Kerala 2 days early, monsoon progressed in very steady manner and onset over Mumbai 2 days after its normal date on 12th June. Immediately thereafter monsoon condition subdued due to absence of low pressure system in Bay of Bengal.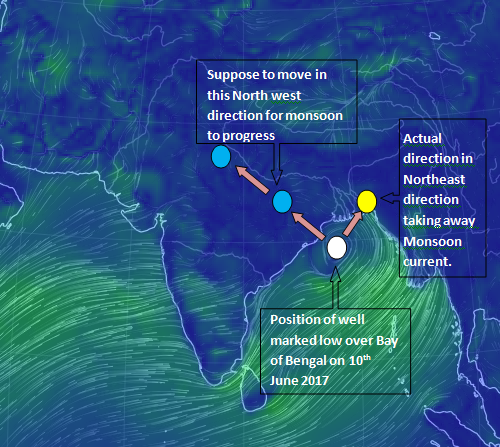 Click image to enlarge                                                             (Fig. A)
Why the monsoon condition subdued?
Normally the low pressure system during June forms in Bay of Bengal goes north westerly direction but this system moved northeasterly and entered into Assam. (It is shown in the Fig. A). The path of northeasterly was not predicted by any model.
So when is monsoon is expected to revive?
It is expected that the monsoon current will enter in the East Uttar Pradesh due to the presence of trough. But Rajasthan and adjoining North Gujarat have to wait for monsoon rain till end of this month. That's why Western part of Central India and Rajasthan and Northern part of North Gujarat will see dry period or very light rainfall at one or two places.
In next week that is from 19th to 23rd June monsoon will be active over west cost, South Gujarat, Telangana, Rayalseema, Chhattisgarh, Odisha, coastal AP, Bihar, Jharkhand, East UP.
Weekly report (10th June to 17th June 2017)
Northern Limit of Monsoon as on 17th June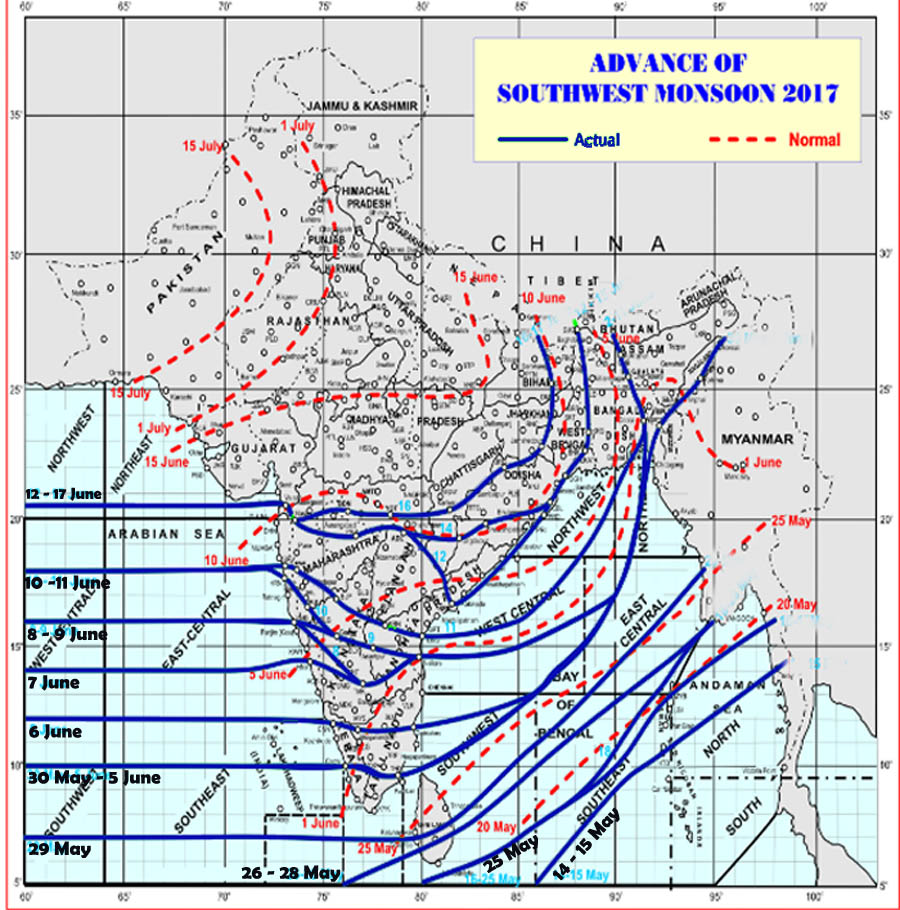 Click on image to enlarge                                      (Image Source: IMD)
| | |
| --- | --- |
| Position of Low pressure over Bay of Bengal | It's effect on Monsoon advance on following day |
| On 10th June the low pressure area persisted over North Bay of Bengal | Monsoon advanced on 11th more parts of central Arabian sea, Konkan, Madhya Maharashtra North Interior Karnataka coastal AP most part of Royalseema and entire South Interior Karnataka. |
| On 11th June low pressure area over North Bay of Bengal off AP coast became Well Marked Low. | On 12th it entered into Gujarat region that is upto Valsad, Marathwada and covered entire Telangana. |
| On 12th it became Deep Depression and moved to South East Bangladesh. | On 13th no advancement and on 14th it advanced over only eastern part of country which is coastal AP, West Central and Bay of Bengal some parts of south Chhattisgarh some more parts of Odisha. |
| On 13th it became low pressure area over Assam and on 13th evening it became less marked. | On 13th onwards no advancement in monsoon |
| Throughout the week, trough of low pressure persisted over South Maharashtra coast to North Kerala coast. (Shown in Fig. B below). | Good rainfall over various districts of South Konkan-Goa and Marathawada. On 16th monsoon advanced over full Marathwada and some part of Vidarbha. |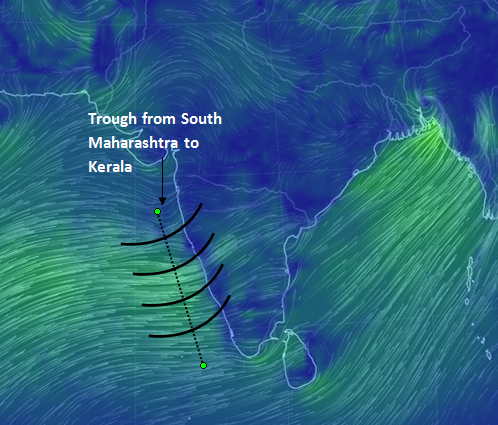 (Fig.B)
Rainfall:
The significant rainfall recorded for past 24 hours:
On 10th June, Osmanabad – 84.4 mm
On 12th June, Harnai 143.4 mm, Mhasala (Raigad District) – 155.2, Santacruz – 70.6 mm, Colaba – 94.0 mm, Dahanu 66.4 mm.
Throughout the week except on 14th & 16th, districts of Marathawada recorded very good rainfall with districts of Ratnagiri, Sindhudurg and state of Goa also reported good rainfall throughout the week except on 13th June.
Forecast
Monsoon will be active over west coast including south Gujarat region almost full week.
Some places of south Konkan – Goa will receive heavy to very heavy rainfall.
Districts of Madhya Maharashtra will receive less rainfall during first half of the week and moderate rainfall at few places during second half of the week.
Marathwada will receive good rainfall during the next week and at some places it will receive heavy rainfall.
Adjoining Vidarbha also will get moderate to heavy rainfall during next week.
In Gujarat state, only south Gujarat region and some parts of Saurashtra will receive good rainfall but north Gujarat region and Kutch will receive light rainfall at isolated places.
Other observed weather features:
In last week west to east trough has developed from Rajasthan to North Andaman sea but the eastern part was pulled northwards due to deep depression moved to Assam. On 16th it came south wards but on 17th again it moved north wards because low formed over south east Bangladesh on 16th became less marked on 17th.
East West shear zone also seen full week on latitude 18 degree north between 3.1 and 3.6 kilometer above mean sea level.
On 12th an upper air cyclonic circulation formed over South Madhya Maharashtra which moved to wards Odisha crossing Marathwada. Due to this circulation Marathwada subdivision was most benefited area. Nanded Aurangabad Parbhansi districts received good amount of rainfall.