WEEKLY WEATHER REPORT ENDING 23RD FEBRUARY AND FORECAST TILL 02ND MARCH 2019
|
Last week passage of western disturbance (WD) were seen in the northern parts of India as shown in the figure.
The WD 1, WD 2, WD 3 (shown in red colour) are the positions of western disturbance at 5.8 km above mean sea level from 17th February till 23rd February.
Where as WD 4 & WD 5 (shown in dark blue colour) are western disturbance formed on 20th February and become insignificant on 22nd February over east Afghanistan itself.
A feeble disturbance (shown in light blue colour) at 3.1 kms above m. s. l. over central Pakistan & neighbourhood lies over eastern parts of Jammu & Kashmir and neighbourhood on 17th & 18th February.
The remant of earlier western disturbance (shown in yellow colour) over Northeast India on 17th February and moved northeastwards on 18th February.
Rainfall:
Due to WD mentioned in 1), caused widespread rainfall over Jammu Kashmir, Himachal Pradesh, Uttarakhand, Haryana, Rajasthan throughout the week.
The remnant of earlier western disturbance over Northeast India caused widespread rainfall over Arunachal Pradesh, Assam, Meghalaya, Nagaland, Mizoram in first half of week and isolated places over same areas in the second half of the week.
Rainfall also occured at one or places over coastal Andhra Pradesh, Rayalaseema, Tamil Nadu, Kerala in the second half of the week.
Forecast for the week 24-02-2019 to 02-03-2019:
A anticyclone is lying over Bay of Bengal. This anticyclone is pushing moist air to eastern and northeastern part of the country. At the same time a strong Western Disturbance is entering to the country from north west India. Sun rays also becoming vertical slowly to southern part of India. This situation of wind system will give thunder storm with gusty wind over eastern state and northeastern states.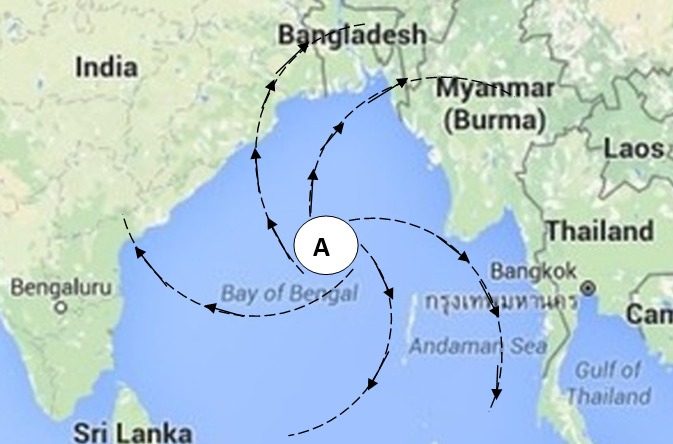 Anticyclone over Bay of Bengal on 24th Febraury 2019
24th February – Telangana, Odisha, Chhattisgarh, plain area of West Bengal and Jharkhand will observe thunder storm with lightning and gusty wind at one or two places.
25th February – Chhattisgarh, Odisha Jharkhand plain of West Bengal East UP Sikkim North East states will observe thunder storm with lightning and gusty wind from evening onwards.
26th February – Western Disturbance will be hitting North West India. North Rajasthan Jandmu and Kashmir Himachal Pradesh Uttarakhand Haryana Punjab West UP all these area will be getting moderate to heavy thunder showers and rain some area of J and k will get heavy rain or heavy snow fall. East UP, MP, Chhattisgarh, Odisha, Plain of West Bengal, Jharkhand and North East states will face thunder storm with squall.
27th February – Western Disturbance will move little east ward so West Rajasthan West MP West UP Haryana Punjab will face cold day and fog in the morning.
28th Februaary, 01st and 02nd March – Thunder activity will decrease over north India but North East states will continue to face thunder storm activity.