Monsoon Update On 28th May 2017
|
Under the influenced of the cyclonic circulation (shown in the below figure) monsoon has advanced into some parts of Comorin area, some more parts of South East, South West Bay of Bengal on 26th May as shown in below figure showing the Northern Limit of Monsoon (NLM) till 27th May 2017.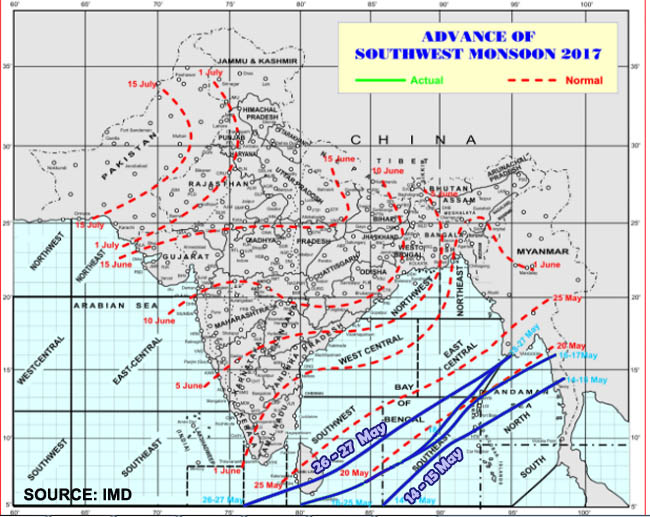 Monsoon Summary for last week:
On 25th May South West monsoon has become active after a break from 18th May to 25th May with the formation of cyclonic circulation over South East Bay of Bengal. This cyclonic circulation became low over the same area and concentrated in to well marked low on 27th May.
Monsoon Update for Next Week (28th May to 03rd June 2017):
South-West monsoon will be active during the coming week.
Conditions are favourable for further advance of monsoon. With strengthening of westerly and northward shift of shear zone conditions are also becoming favourable for the advance of southwest monsoon in to some parts of south Arabian sea entire Maldive comorin area and south Kerala during 30th to 31st May.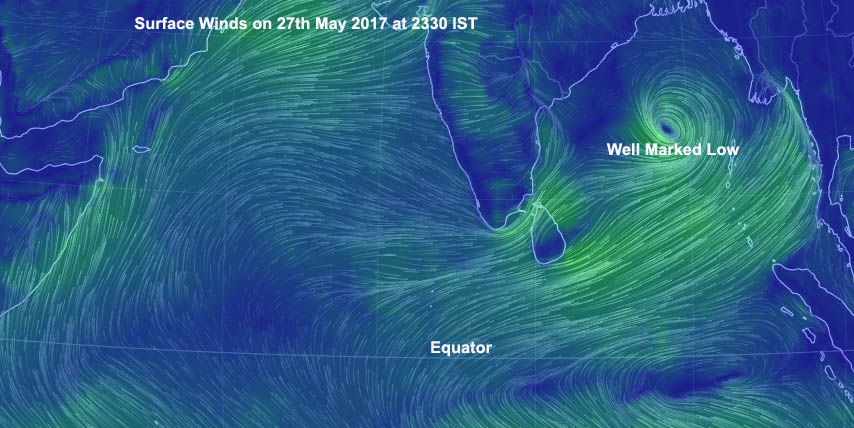 The well marked low over Bay of Bengal is very likely to become Depression on 30th May and it will move northward. It will cross Bangaladesh by 31st May or 01st June. Arabian Sea branch also will be active during next week. Forming of cyclonic circulation over west central Arabian sea in second half of week will turn the wind southerly or south westerly over west coast and will boost the advance of monsoon in Arabian sea and west coast of India. Observing all this situation it can be told that peninsular India and north east India will get above normal rainfall during the week.