Monsoon Weekly Update & Forecast dated – 4th June 2017
|
Monsoon Update
On 30th May South West monsoon was advanced over much awaited Kerala. Along with this it was also advanced into some parts of South Arabian sea, remaining part of Maldive Comorin area , southern part of Lakshdweep area, Kerala, Tamilnadu some parts of South West Bay of Bengal, remaining part of South East Bay of Bengal some parts of West Central Bay of Bengal most part of East Central and North East Bay of Bengal some parts of Nagaland Manipur Mizoram and Arunachal Pradesh.
Northern Limit of Monsoon (NLM):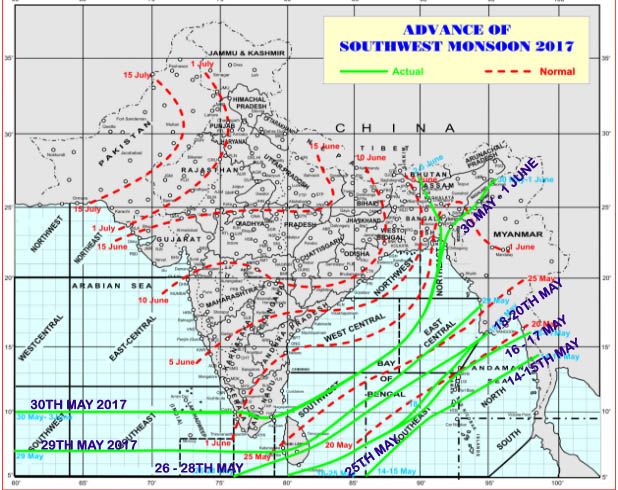 Source: IMD
Monsoon watch:
MORA cyclone helped in progress of monsoon.
South-West monsoon will be active during the coming week in west coast. Monsoon will reach Goa by 7th or 8th June and by that time Mumbai, Thane, Raigad, Palghar district will witness more rainfall activity.
International model suggesting one system in Arabian sea and one system in Bay of Bengal. Though the direction is not certain but if the system in Bay moves close east coast then west coast monsoon progress will be faster. Then Marathawada also will get good amount of rainfall.
Read about other latest weekly weather report