Rainfall Is Active in Peninsular India with Strong Thunderstorm & Ligthning Activity
|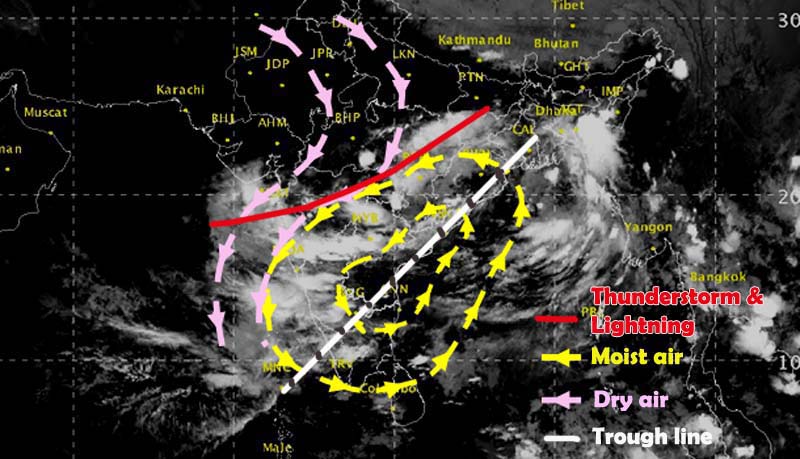 The figure above shows two cyclonic circulations. First one over westcentral Bay of Bengal & adjoining northwest Bay of
Bengal which extends upto 1.5 km above mean sea level. The embedded second cyclonic circulation is over Telangana and neighbourhood which extends upto 3.6 km.
Thunderstorm Activity
The monsoon had been withdrawn from north and northwest India. So strong dry anti cyclonic winds shown in pink (clockwise direction) are coming from north and wet cyclonic winds shown in yellow (counter clockwise direction) coming from Bay of Bengal. They are meeting along the red line shown in the figure. Hence the red line is the zone where dry and wet air meets to give a strong convective activity giving rise to thunderstorm and lightning.
Rainfall
Under the effect of the circulations there is a trough (belt of low pressure) within the yellow lines which has resulted into widespread rainfall over East MP, Vidharba, Chattisgarh, West bengal, Madhya Maharashtra, Marathawada and even west coast of India.
See the simulated flow of winds with respect to above explanation.
Expected Weather for today and tomorrow:
Today on 7th Oct 2017 dists of Nashik, Jalgaon, Dhule, Pune, Satara, Sangli, Solapur and Kolhapur, Aurangabad, Parbhani, Latur, Hingoli will have ligthning and heavy rain.
Also Vidharba and Telangana will get ligthning and thunder today.
Mumbai may not get that much activity today but tomorrow and day after tomorrow will experience little thunder and moderate rain.