What is North East Monsoon?
|
North East monsoon give rain to peninsular India mainly Tamil Nadu, Andhra Pradesh, Rayalseema, Interior Karnataka and Kerala. North East monsoon occur due to flow pattern during October November and December.
An intense anticyclone develop over Siberian area. The flow from this Anticyclone give rise to north easterlies wind over peninsular India. After the withdrawal of South West Monsoon from the country, the Inter Tropical Convergence Zone (ITCZ) start moving southward. The southward movement of ITCZ is the reason of North East Monsoon. This trough is located from Bay of Bengal to Arabian sea across peninsular India during the months of October November and December.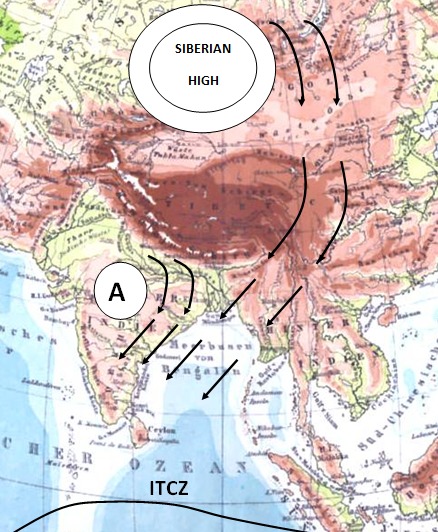 In the month of October the position of ITCZ is around Latitude 13 deg N. During November the position is Latitude 10 deg N. During December the position is 8 deg N.
Along with the Siberian high, one more anticyclone is normally noticed over the central parts of India and another over Myanmar with ridge along latitude 25 degree north in the lower tropospheric level. The air flowing over Bay of Bengal picks up moisture from Bay of Bengal and approaches over peninsula.
On set of north east monsoon over Tamil Nadu should be declared with the following conditions as per IMD:
1 Withdrawal of South West monsoon up to 15 deg N.
2 Onset and persistence of surface easterlies over Tamil Nadu.
3 Depth of easterly winds at least up to 850 hpa level (upto 1.5 km above mean sea level) over Tamil Nadu.
4 Occurrence of rainfall at many places i.e atleast 75% of area over Tamil Nadu and adjoining areas.
The North East monsoon is totally dependent up on the system in ITCZ which moves west wards. These systems will be in form of low pressure area depression or some time cyclonic storm. These systems are of easterly waves so they move from east to west.