MONSOON UPDATES AND WEEKLY WEATHER REPORT FOR THE WEEK ENDING 02nd September 2017
|
Realised Weather over Maharashtra, Goa and Gujarat State. (28thAugust to 02nd September)
Analysis of Mumbai Heavy Rainfall event
Forecast for the week 03rd September to 09th September
During the last week, 29th August reminded people of Mumbai the experience of the 26th July 2005 rain. But the rain received was 1/3rd of 26th July 2005.
Analysis of Mumbai Heavy Rainfall event: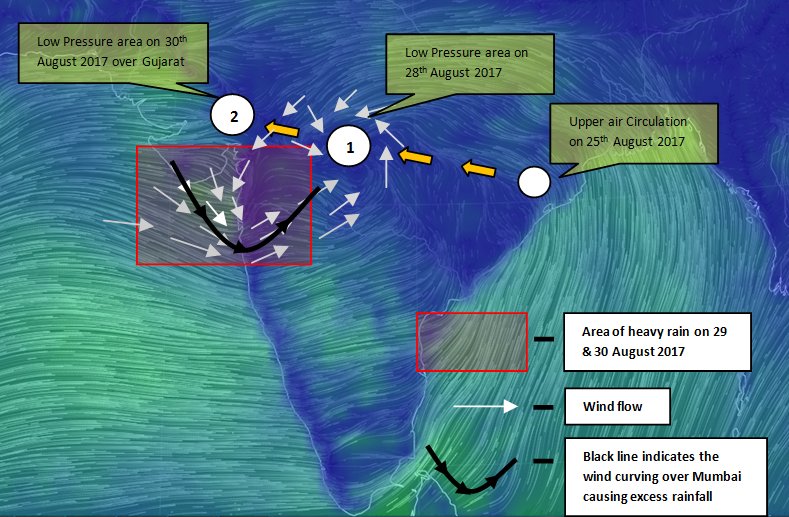 Let us see the sequence of development of the situation.
There were two cyclonic circulations one over North West Bay of Bengal off North Odisha coast and another cyclonic circulation was over Eastern part of Mizoram and Tripura on 26th
Both system merged and centred over Coastal Odisha on 27th. On 28th the circulation lies over south east interior Odisha and became a low pressure area (as shown in fig above). It moved little fast and centred over Odisha and adjoining Chhattisgarh on 28th night. On 29th 0530 hrs IST, it moved to South Madhya Pradesh and at 29th 0830 hrs IST it intensified into well marked low pressure area. This system increased the wind speed over Mumbai coast and a strong off shore trough developed over Mumbai coast. This converted into a acute convergence zone increasing the vorticity and moisture content over Mumbai.
In the morning RADAR pictures, you can see the yellow patch which shows the huge clouds approaching Mumbai from Arabian sea.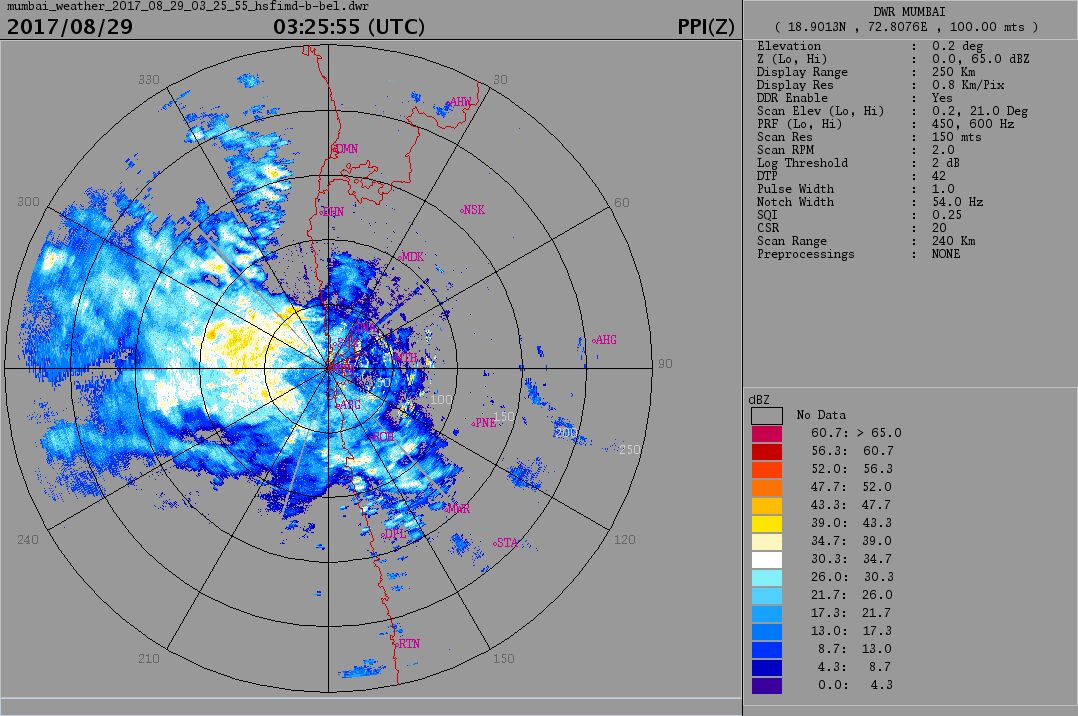 In the weather model shown below shows the convergence of winds indicated in blue patch.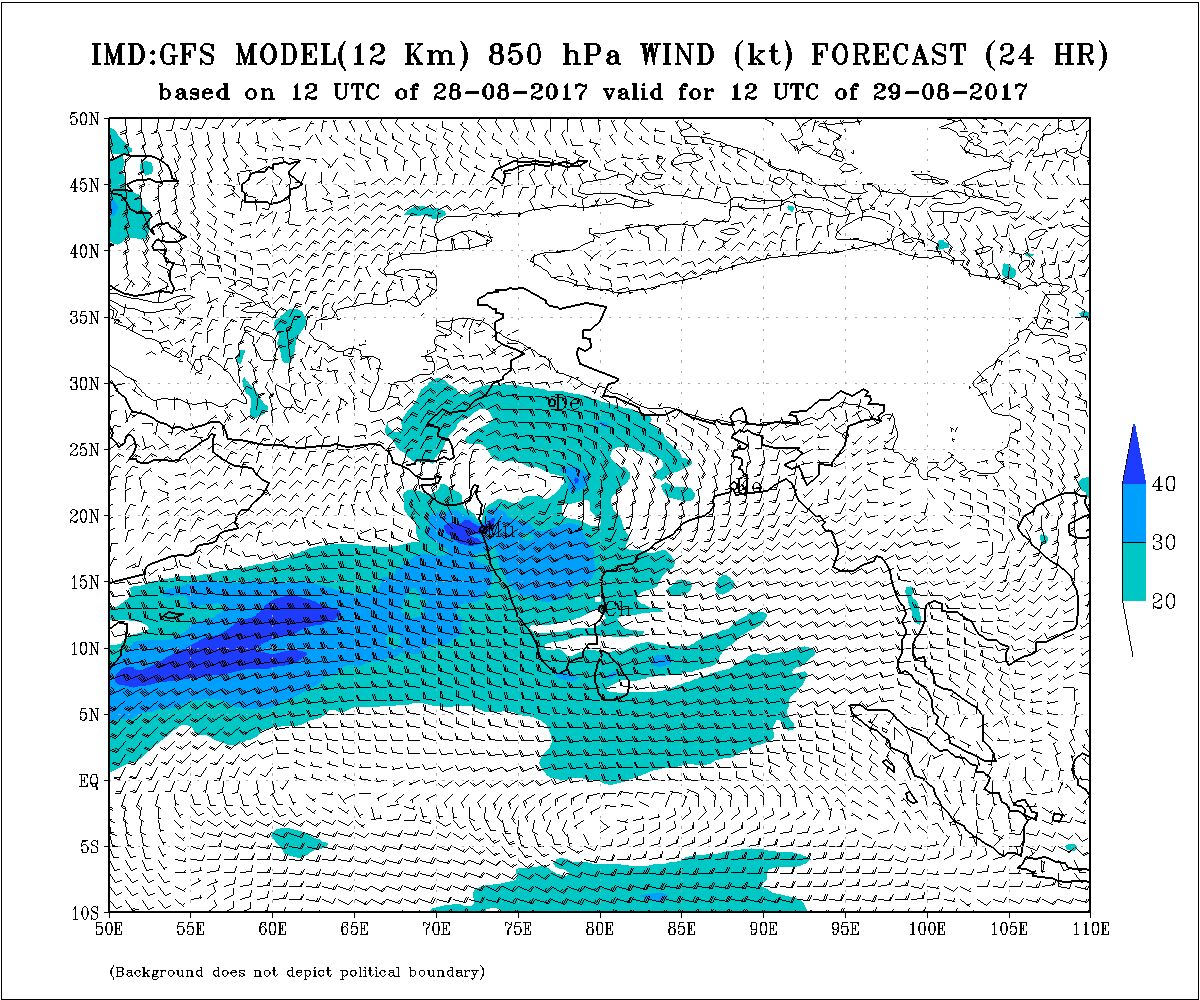 Also the satellite picture below shows a strong cloud bands covering  Mumbai under the convergence effect.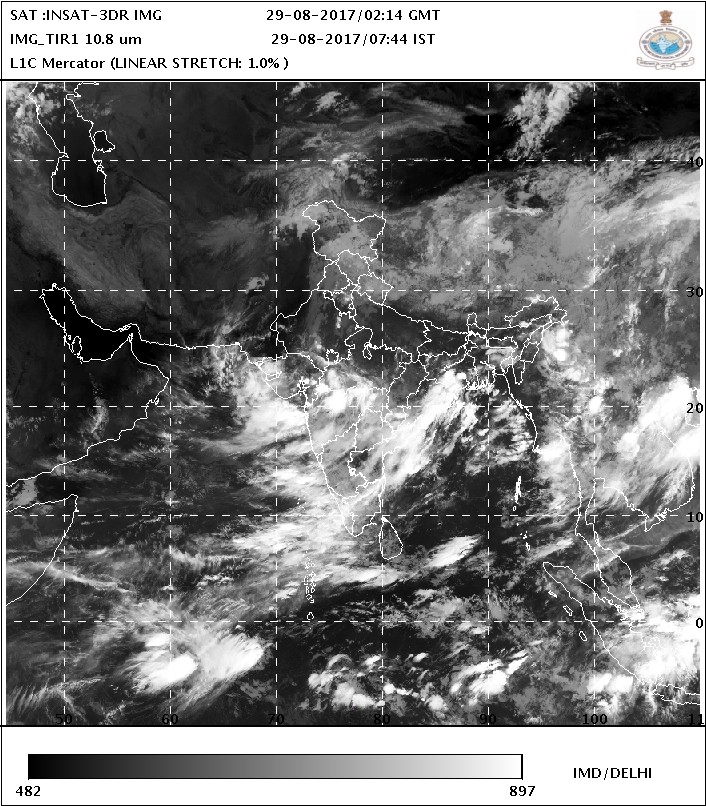 By evening 1730 already rain measured about 29 CM of rain at Santacruz observatory.
Extremely heavy rainfall was recorded in various places (in centimetres):
Dharavi 54 Santacruz 33, Bhandup 31, Palghar 28, Thane 25 cm.
(Read about effects of position of monsoon trough on rainfall)
Other synoptic features were monsoon trough position. The monsoon trough position was fluctuating around its normal position from 28th to 31st August 2017. It was due the effect of the circulation formed over Northwest Bay which later formed into low pressure and it's journey in West Northwesterly direction as mentioned above.
But from 01st September 2017 the western part of monsoon trough started shifting northwards and on 02nd it is completely shifted to the foot hills of Himalayas.
When rainfall activity increases, monsoon is classified into Vigorous and Active. Read the definition of Vigorous and Active monsoon.
| | | |
| --- | --- | --- |
| Sub Division | Vigorous Monsoon | Active Monsoon |
| North Konkan | 29th & 30th | 28th |
| South Konkan-Goa | 29th | 25th & 26th |
| North Madhya Maharashtra | 29th | 30th |
| South Madhya Maharashtra | | 30th |
| | | |
| Marathwada | | 30th |
| Vidarbha | | 29th  & 30th |
| Gujarat Region | 29th | 28th, 30th |
| Saurashtra & Kutch | 30th | 31st |
Forecast for the week 03rd September to 09th September
As the western part of monsoon trough is shifted to foot hills of Himalayas. So first half of the week will be very light rain at isolated places over Maharashtra, Goa and Gujarat.
North Konkan – Till 07th September districts of North Konkan such as Thane, Raigad and Mumbai will experience passing showers of light rain. On 08th 09th there will be partly cloudy skies.
South Konkan & Goa – Districts of South Konkan such as Ratnagiri and Sindhudurg and Goa state also will observe passing showers of light rain and partly cloudy skies till 08th and on 09th there will be moderate rain at few places as a cyclonic circulation would be forming over South Madhya Maharashtra adjoining Telangana.
Madhya Maharashtra – Districts of North Madhya Maharashtra such Ahmednagar, Jalgaon, Nashik, Pune, Dhule, Nandurbar will experience light to moderate rain at isolated places whole week. Districts of South Madhya Maharashtra such as Sangli, Satara, Solapur and Kolhapur will also experience light to moderate rainfall at isolated places till 07th September and on 08th and 09th due to circulation districts of South Madhya Maharashtra will observe moderate rainfall at few places.
Marathwada – Districts of Marathwada such as Aurangabad, Parbhani, Nanded, Beed, Jalna, Latur, Osmanabad and Hingoli will observe partly cloudy conditions till 07th and on 08th and 09thmoderate rainfall at many places.
Vidarbha –
Till 05th September districts of Vidarbha will experience light rain at one or two places.
On 06th and 07th districts of west Vidarbha such as Akola, Amravati, Buldhana, Washim, Yavatmal will observe partly cloudy skies but districts of east Vidarbha such as Bhandara, Chandrapur, Gadchiroli, Gondia, Nagpur, Wardha will have moderate rain at few places.
On 08th and 09th whole Vidarbha will have moderate rain at few places.
Gujarat region :-
Districts of North Gujarat will observe sunny days full week. Districts of South Gujarat region will observe light rain at isolated places till 06th and there after sunny days.
Saurashtra and Kutch :-Saurashtra and Kutch will experience sunny days whole week.
One North – South trough runs from cyclonic circulation over north east Bihar to west central Bay of Bengal across Gangatic West Bengal and Bangladesh and another trough runs from Rayalaseema to south Tamilnadu.
Western part of monsoon trough runs at the foot hills of Himalayas. One circulation is over Punjab. So heavy rain at the hills of northern India and central India and central west India will not have rain.
North West India may allow to withdraw monsoon wind. As the anti cyclone may develop after 10th of September.